(H/T Josh) The price of rice has reportedly skyrocketed since the "anti-inflation" currency reforms.  According to Good Freinds: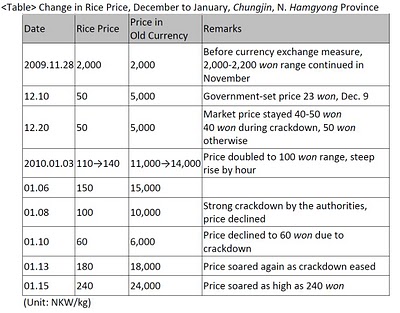 The "inflation fighting" reforms have also caused a devaluation of the new won realtive to foreign currencies: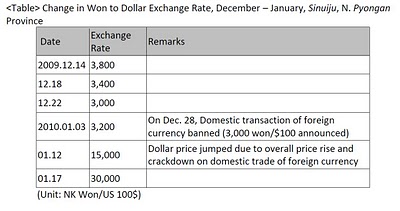 You can read the full Good Friends report here. 
The Daily NK keeps a running graph of price and exchange rate information.  See it here.
As with all hyperinflation economies, North Koreans are reportedly turning to barter.  According to the AFP:

Seoul-based Internet newspaper DailyNK also reported last week that bartering has made a comeback.

"For now, state-designated prices are still not public, so people think that selling goods for cash now would mean making a loss," it quoted a defector who talked to his family in the North as saying.

"Therefore, bartering has become the main method of trading for the people."

The defector said the barter value of products is decided according to their value in old money, with trade carried out privately to avoid detection.

Before the redenomination, one fish was worth 1,500 won and a kilogram of corn was 900 won, so people barter one fish for a little less than two kilograms of corn, DailyNK said.