UPDATE: You Tube has video footage of the Pyongyang leg of the Olympic torch relay taken from foreign news sources.  Judging from the videos, it looks like the ceremony kicked off at the Tower of the Juche Idea, and Pak Do ik was the first relay runner.
Here is coverage on CNN  (the announcers make at least two mistakes.  They identify the paper flowers people are waiving as Kimjongilia, and they call Kim Jong Il North Korea's "President"– let's get with the program people).
Here is coverage on Russian Television.
Here is more extensive print coverage from the AP.
I still have not managed to find the entire olympic torch route in Pyongyang or official DPRK coverage of the event.  If you find this information, please let me know.
ORIGINAL POST:   
North Korea's most famous footballer (domestically), Pak Do ik, will be carrying the Olympic torch (for the first time ever) through Pyongyang: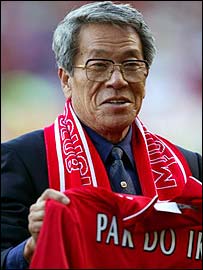 Pak was introduced to modern western audiences through his appearance in the documentary The Game of Their Lives, released in 2002.  He scored the winning goal against Italy in the 1966 World Cup allowing the DPRK to enter the quarter finals (where the the DPRK lost to Portugal after being up 3-0 early on).
80 individuals were selected for the torch relay, and most are DPRK citizens with significant athletic accomplishments under their belts–such as Jong Song-ok, who won the 1999 World Athletics Championship. The remainder of the runners are officials with the International Olympic Committee, the Chinese Embassy in Pyongyang, representatives of Chinese residents in North Korea and major sponsors of the torch relay.
It also looks like the torch might cross the DMZ: 
The torch is set to pass from South Korea to North Korea in the early hours of April 28 before heading to Vietnam that evening aboard a flight.

The 20-kilometer (12.4-mile) section linking Juche Tower to Kim Il Sung Stadium, both major landmarks in Pyongyang, was chosen for the event, it said.

It indicated Pyongyang citizens will be mobilized to stand along the street while the torch passes, by saying, "A large welcoming crowd will cheer for the torch runners." (Joong Ang Daily)
UPDATE: According to Yohnap, the torch will be flown from Seoul to Pyongyang.  
Read the full article here:
Athletes selected to carry the torch in North Korea 
Joong Ang Daily
4/21/2008
N.K. preparations for torch relay almost complete: KCNA
Yohnap
4/23/2008