BBC
7/24/2007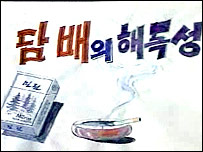 The North Korean capital, Pyongyang, has reportedly become the latest city to impose a smoking ban.
However, rather than being for the good of the general public, it is all about the country's leader Kim Jong-il.
The move comes after doctors advised Mr Kim to stop smoking and drinking after a recent heart operation, reports say.
"Kim's home, office and all other places he goes to have been designated as non-smoking areas," a former South Korean lawmaker said.
"A Chinese diplomat who has close relations with the North Koreans told me by telephone that doctors had asked Chairman Kim Jong-il to quit smoking and drinking," Jang Sung-Min, an associate of former South Korean president Kim Dae-Jung, told the French news agency AFP.
"Even the highest-ranking officials are going outdoors to smoke," he said.
Former chain-smoker
Mr Kim, 65, has reduced his official activities this year, and a month-long disappearance from public view in May prompted rumours of failing health.
A team of German doctors visited Pyongyang in May, sparking speculation among some foreign and local news media that Mr Kim might have had a heart operation. This has never been confirmed.
While accurate information is hard to obtain, several accounts portray Mr Kim as a former chain-smoker and a heavy drinker with an appetite for fine dining.
Such rumours are hard to confirm because of the highly secretive nature of his regime.