Daily NK
Yang Jung A
5/16/2007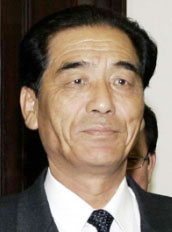 "Kim Jong Il will not forgive even a scent of capitalism."
The news concerning North Korea's Park Bong Joo, the former prime minister who was dismissed last April after having received severe criticism from party members for insisting on implementation of an incentive-based system to encourage economic growth, has been generating interest.
It is known that Park Bong Joo was dismissed for an economic policy failure and using $8,000,000 of fertilizer money to purchase oil.
According to the Japanese media, Park, at last January's "Cabinet Meeting," suggested the implementation of an hourly, daily, and weekly plan to domestic companies as a way to inspire labor power. However, he was criticized by a Party leader who participated in the meeting at the time. The criticism was that Park was scheming to introduce capitalism.
Former Prime Minister Park also suggested in 2005 that it would be good to hold on exports of coal to China due to the influence it will have on civilian's energy situation.
However, after the nuclear experiment, the National Defense Committee unfolded an emphasis on the acquisition of foreign currency for strengthening military power as being indispensable to the nation and strongly demanded the reopening of exports. This effectively reversed cabinet's decision to terminate coal exports.
Concerning these matters, it is the evaluation of former International Secretary of the Party Hwang Jang Yop that "Park Bong Joo is the kind of person who speaks out about such things (to speak for reform)."
Former secretary Hwang said however, "(In North Korea), the Party secretary's right to speak is much more powerful than the Prime Minister and even if Kim Jong Il could accept the contract work system (a piece rate system), if one advocates to reform like China, such speech to imitate capitalism or foreign country absolutely cannot be forgiven because Kim Jong Il himself can lose his position."
"Basic economic reforms are impossible because of the need to preserve the basis of the military-first policy."
Former Secretary Hwang explained, "Dr. Lee Seung Gi's (abducted scientist who created a synthetic fiber, named as "Vinallon") grandson, Park Chul went around saying China increased its production through agricultural reforms, but Dr. Lee's pupil, Kim Hwan who was a secretary of the Party, supported Park Chul's speech and was severely treated, falling to the position of assistant minister. From this we can see, speech to open and reform like China or even a scent of democratic opening and reform will not be forgiven."
Kim Jong Il is known to have promised to lend his strength to the cabinet for normalization of North Korea's destroyed economy after he elevated then Minister of Chemical Industry Park Bong Joo to the position of Prime Minister. (Park had previously been an economic bureaucrat).
When former Prime Minister Park reported to Kim Jong Il in 2003 that the Party and administration were infringing on the national economy, Kim Jong Il took the ministry's side saying, "If I gave authority to the ministry, you have to be able to use it."
However, as can be seen from more recent developments, the shake up involving Park Bong Joo shows how the cabinet is powerless in the face of the military and Party. Furthermore, this example reflects well how the system ultimately chooses the side of the anti-reform minded military in tension between it and reform-centered practical powers.
If the basis of the military-first policy remains unchanged, even if a brilliant economic bureaucrat assumes the duties of Prime Minister, the resuscitation of North Korea's economic is fundamentally difficult, experts say.
Also, it has been pointed out that Kim Jong Il has been indulging the Party and the Army by dumping the responsibility for economic failure on the public administrative staff.
On the other hand, some North Korea experts suggest the dismissal of former Minister Park could be a symbolic acknowledgement of fear over the enlargement of China's influence on North Korea.
Former Minister Park visited China in March 2005 and held talks with President Hu Jintao and Premier Wan Jiabao and inspected Chinese industrial cities. In January 2006, he was part of Kim Jong Il's China visit as well.
N. Korea's premier sacked due to his capitalist move
Yonhap
5/13/2007
North Korea fired its prime minister last week holding him responsible for making a suggestion that the reclusive communist country introduce an incentive-based capitalistic wage system, a Japanese newspaper said Sunday.
North Korea replaced Premier Pak Pong-ju with Transport Minister Kim Yong-il in April in a sudden reshuffle. The North gave no reasons for the change.
Citing unidentified diplomatic sources, Japan's Mainichi Shimbun newspaper reported that Pak came under attack from party officials in January after suggesting the introduction of an incentive-based wage system to spur labor productivity.
The row apparently discouraged Pak to stay in his job, the paper said.
Mainichi said Pak was already at odds with the military over the North's coal export policy. Pak banned coal exports to China, citing the shortage of fuel for households, but the military wanted coal exports to resume in an apparent bid to earn hard currency to boost the country's defense capability, it said.