Daily NK
Kim Song A
5/9/2007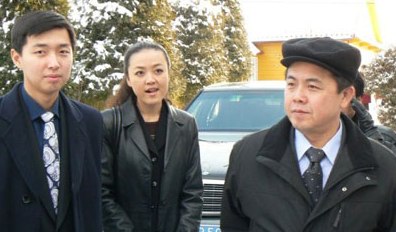 Photos of Kim Jong Il's half-brother, Kim Pyong Il and the North Korean ambassador in Poland were recently made public.
Kim Pyong Il's daughter, Eung Song and son, In Kang who have until now lived a sheltered and private life are also exposed in the photos. They are Kim Jong Il's niece and nephew.
The photos were first released in March on Poland's City of Narew homepage. The photos show Kim Pyong Il, his children and city officials making visitations to industrial sites, exhibitions, museums and participating recreational activities. In reference to the photos, it seems that these events took place on February 10.
Throughout the past, North Korea has maintained economic and cultural exchanges through the Korean Friendship Association with various countries in the East-European bloc. The events that took place on this day were organized by the association with North Koreans residing in Poland also participating in the occasion.
The homepage showed photos of Kim Il Pyong Il visiting NARMET Pty Ltd, his son, In Kang playing a game of table tennis and daughter Eun Song playing the piano.
Through the photos of Kim Pyong Il, you can see an exact resemblance of his father, though a "younger Kim Il Sung." His two children are known to have completed a Masters degree in Poland and look healthy and well in appearance.
Kim Jong Il has one younger sister Kim Kyung Hee (married to Jang Sung Taek) as well as half-brothers (to different mothers) Kim Pyong Il, Kim Young Il (deceased 2000) and half-sister Kim Kyung Jin (51, married to Kim Kwang Sup, Ambassador to Austria). After being appointed as the successor in 1974, Kim Jong Il sent his brothers and sisters to work at alternative foreign departments so that they could not interfere with his power.
According to elite North Korean officials, there was a time where Kim Il Sung had considered appointing his succession to his three sons, "Jong Il, the Party, Pyong Il, the military and the government to Young Il." However, after winning a power conflict with his uncle Kim Young Joo, Kim Jong Il ousted his uncle to Jagang province and sent his other siblings including Pyong Il to other departments where they could not come near of his power.
Kim Pyong Il was born on August 10 1954 and graduated from Kim Il Sung University with a major in economics. Following, he was appointed a high rank position and after passing the Kim Il Sung National War College, began working as a battalion commander at the guards headquarters. Once it was confirmed that Kim Jong Il would succeed his father, Kim Pyong Il left Pyongyang in 1979 to work at the North Korean Embassy in Yugoslavia. Around the same time, Kim Kyung Jin left with her husband for Czechoslovakia and Kim Young Il to East Germany.
In 1988, Kim Pyong Il was appointed Ambassador for Hungary but as soon as South Korea and Hungary developed amiable relations in December that year, he was re-appointed as the Ambassador to Bulgaria. Then in 1998, he became the official Ambassador to Poland where he has continued his services until now.
Kim Pyong Il's wife is Kim Soon Geum. It is the first time that photos of their daughter Eun Song and son, In Kang, have been exposed to the public. When Kim Jong Il and his first wife Kim Young Sook had their first daughter, Kim Il Sung named the child "Sul Song." When Kim Kyung Hee had her first daughter, she was named "Geum Song." Similarly, it seems that Kim Il Sung named Kim Pyong Il's first daughter, "Eun Song." Kim Kyung Hee's first daughter Jang Geum Song was known to have committed suicide last year in France as her parents opposed a marital proposal.
Of North Korea's central committee under the Workers' Party, the office 10 is known for regulating, controlling and being responsible for Kim Jong Il's half-siblings.
Kim Pyong Il: North Korea's Man in Poland
Daily NK
Nicolas Levi
5/17/2009
In February 2005, when I met Kim Pyong Il in Poland for the first time, he told me that he favored ameliorating the human consequences of the division of Korea.
Afterwards he started to talk to the other people present there in a room at the North Korean embassy; one of them later told me that Kim Pyong Il is usually very discrete, and is rarely present at receptions in other embassies in Warsaw. He generally only goes to the Chinese and Russian embassies, and sometimes to the Romanian and Algerian ones as well. North Korea was a model for both communist Romania under Ceaucescu and Algeria, that's why the North Korean ambassador has special ties with those countries. In addition, Shaif Badr Abdullah Qaid, the last Yemeni ambassador in Warsaw studied in Pyongyang in the 70's and became Kim's good friend; their conversations dealt with life in North Korea, but never about the private life of half brother of Kim Jong Il.
In February 2006, I had occasion to talk with Kim Pyong Il again during a reception on Kim Jong Il's birthday. During this meeting I saw a confident Kim Pyong Il, happy in Poland. However our conversation remained very diplomatic; Kim agreed that Korea should be reunified peacefully.
I never talked with Kim In Kang (26), Kim Pyong Il's son, but I did have the chance to meet his daughter Kim Eung Song (28) some 10 times, both with her friends and face to face. She was a very open person. She was not only a nice girl; she also had impressive languages-skills (she is fluent in English, Polish, French and presumably Russian). She had a great social life in Poland with many friends. However, her father ordered her to return to Pyongyang in 2007, where she was supposed to marry the son of a North Korean General. She refused for a time, but finally went back to the North Korean capital.
Kim Sun Gum (56), the wife of Kim Pyong Il is a very discreet person, and rarely talks to others. Theirs was an arranged marriage. The wedding was personally organized by Kim Il Sung. It is said that she has a political background; her family apparently comes from the special services.
The last time I met Kim Pyong Il, in February 2009, I told him that I was preparing a doctoral thesis about his extended family (Kim Il Sung has two official wives: Kim Jong Suk, the mother of Kim Jong Il and Kim Sung Ae who is Kim Pyong Il's mother). He reacted violently, telling me it was too dangerous.
That was my last contact with Kim Pyong Il; we haven't met again since.
Kim Jong Il has a younger sister called Kim Kyung Hee (married to Jang Sung Taek) as well as half-brothers Kim Pyong Il (55) and Kim Yong Il (deceased in 2000), and half-sister Kim Kyung Jin (51), who is married to Kim Kwang Sop, Ambassador to Austria. After being appointed successor to his father in 1974, Kim Jong Il sent his half-brothers and sisters to work in overseas missions so that they could not interfere with his power. Kim Pyong Il started out in Yugoslavia, before moving to Hungary in 1988. However, he was swiftly relocated to Bulgaria as part of a protest over the opening of diplomatic relations between Hungary and South Korea. He then went on to work in Finland, but since January 1998 has resided in Warsaw.
Nicolas Levi is a Polish free publisher whose interests are mainly connected with the Korean Peninsula.