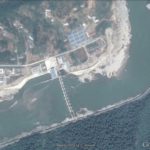 Pictured Above (Google Earth): Huichon Power Station No. 9, site of the opening ceremony
According to Rodong Sinmun (2015-11-9):
Multi-tier power stations on the River Chongchon went operational.

The stations are the labor gifts the Korean people presented to the 70th anniversary of the founding of the Workers' Party of Korea (WPK) with loyalty.

The 10 multi-tier power stations in the 80 km-long section of the River Chongchon would contribute to the building of an economic power and improvement of people's living standard.

An inaugural ceremony of the power stations was held at Huichon Power Station No. 9 on November 17.

Present there were leading officials of the party and state, the ministers of electric power industry, metal industry, railways, construction and building-materials industry, electronics industry and machine-building industry, the president of the State Academy of Sciences, the chief secretaries of the provincial committees of the WPK, officials and members of shock brigades who took part in the construction of the power stations and others.

A congratulatory message from the Central Committee of the WPK to the builders, officials and helpers who performed shinning labor feats in building the power stations was conveyed by Pak Pong Ju, member of the Political Bureau of the C.C., the WPK and premier of the DPRK Cabinet.

O Su Yong, member of the Political Bureau and secretary of the C.C., the WPK, said in his inaugural speech that the completion of the 10 multi-tier power stations on the River Chongchon in a short span of time as monumental structures in the era of Marshal Kim Jong Un is of great significance in demonstrating the rapid development of Songun Korea.

The speaker called upon the builders of power stations on the River Chongchon to demonstrate their heroic stamina once again in the all-out drive for presenting a labor gift to the 7th Congress of the WPK with loyalty.
UPDATE: Note that the article does not claim that ALL of the hydro power plants on the Chongchon River are operational. In the March 2016 Korea pictorial magazine, did a feature on Huichon Power Stations Nos. 3, 4, 8, 9, and 11. 1 and 2 were previously constructed. There are construction sites available on Google Earth for plants 5,6,7, and 10, but I am not sure about specific names for each. I am also unsure if the Hyangsan Army-People Youth Power Station near Hyangsan is being renamed and included in the Chongchon River plants.