UPDATE 1 (2015-1-26): The Milyong Revolutionary site has not appeared on the evening news (to the best of my knowledge) since the fire was reported.
ORIGINAL POST (2014-1023): According to the Daily NK:
A raging wildfire that broke out on October 21st in North Korea's Samjiyon County, Yangkang Province is said to have burned down former leader Kim Jong Il's home on Mount Baekdu near Milyong, the alleged birthplace of the late leader, the Daily NK has learned.

"The fire in Samjiyon County has spread to Baekam County putting the country in a state of emergency," a source in Yangkang Province told the Daily NK on Tuesday. "The Baekdu Milyong home and most of the historic revolutionary landmarks have gone up in flames."

"The 10th Corps [a military body charged with maintain order and security] in Yangkang Province, the State Security Department, and provincial units of the People's Safety Ministry are all on high alert," the source elaborated. "To determine the cause of the fire, cadres from the Central Party have also been dispatched."

…

North Korea appears to be trying to wipe out the fire by mobilizing residents in the area. "They started broadcasts from the 20th in downtown Hyesan, and even on the Third Broadcast [fixed cable system to which only North Korean residents are exposed], they've been saying that everyone actively must lend a hand to get the fire under control," the source said. It is not only in Hyesan City, but residents in Bochon [Pochon], Unheung [Unhung], Baekam [Paekam], and Shinpa [Sinpha] Counties that have also been mobilized to combat the wildfire.

"The autumn air is dry and so are the leaves. On top of that the winds are strong, so they haven't been able to effectively fight the fire," she went on. "Despite days having passed since the fire broke out, they haven't been able to tame the flames."

"Already people are saying, whether the fire was deliberate or an accident, anyone tied to it will probably be executed," she said, speculating, "If it's arson, it will be a huge problem, since it will be seen as treason. Even if that's not the case, they will be held accountable for not managing a key historic site of the country."

"Some security officials have said that this incident will not end with simply one or two people being held responsible," the source alleged. "Even provincial Party members have been staying onsite, eating and sleeping there, to try to put out the fire."

North Korean state media outlets have yet to report on the fire, but attention is on how or if it will provide coverage of the incident.
I am unable to obtain a recent satellite image of the area, but this one was published in the Donga Ilbo: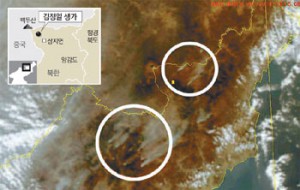 This satellite image is fairly low quality, but it does not appear to me that there is a fire at the Milyong Revolutionary site.
Read the full stories here:
Fire Swallows Kim Jong Il's Landmark Home
Daily NK
Kang Mi Jin
2014-10-23