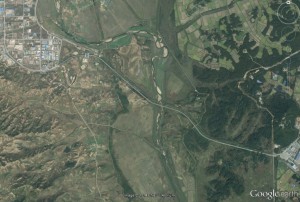 Pictured Above (Google Earth): The road linking the KIC and South Korea
According to the Daily NK:
A bridge and northern parts of a road and connecting South and North Korea built by Pyongyang, for which Seoul provided 25.3 billion KRW [23.6 million USD] worth construction materials and equipment, are in decrepit conditions, according to documents obtained by a South Korean lawmaker.

"A strip [5km] of the northern side of the road connecting to the Kaesong Industrial Complex and parts of Tongil Bridge [220m] are extremely run-down, with cracks and severe forms of distortion," representative Ha Tae Keung from the ruling Saenuri Party said, citing data submitted by Korea Land and Housing Corporation and Korea Expressway Corporation on Thursday. "However, the southern part of the project [5.1km], which cost us 68 billion KRW [63 million USD] is in good condition," he stated.

"According to safety tests, the bridge and road are expected to progressively deteriorate, raising concerns of a major accident," Ha said. "We may face another disaster such as the Seongsu Bridge collapse [in South Korea in 1994]."

…

The connecting road from South Korea to the inter-Korean Kaesong Industrial Park in the North began in September 2002 and was completed in 14 months. Seoul put 68 billion KRW [63 million USD] behind the project for its side and provided 25.3 billion KRW [23.6 million USD] worth of construction materials and equipment for Pyongyang to build its section.
Read the full story here:
Dilapidated Roads to Kaesong a Major Safety Concern
Daily NK
Lee Sang Yong
2014-10-14