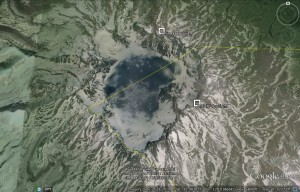 Pictured above (Google Earth): Mt. Paektu and the locations of tourist infrastructure on the Chinese and Korean side of the border.
According to Yonhap:
North Korea is set to open its portion of the Korean Peninsula's highest mountain to Chinese tourists this month, a travel agency official said Wednesday, resuming the tour route that has been suspended since the North conducted its third nuclear test.

If realized, it would represent another bid by North Korea to increase tourism income by approving more tour routes that start in Chinese cities.

The peninsula's highest peak, Mt. Baekdu, sits on the border between North Korea and China. Tourists can visit the Chinese side of the mountain, but the tour route to the North Korean portion has been halted following the North's nuclear test in February last year.

The two-day or three-day tour to the North Korean side of the 2,749-meter mountain starts from the Chinese border city of Helong in the northeast of China. Helong is part of the Yanbian Korean Autonomous Prefecture in China's Jilin Province and a popular border town for travel to North Korea.

The official at the travel agency in Helong, who spoke on the condition of anonymity, said the tour route will be reopened in the middle of this month.

"It is the only route for tourists from China to see the eastern side of Mt. Baekdu," the official said, adding that the trip will only be available for Chinese tourists.

The two-day trip will cost 1,100 yuan (US$175.8) per person and the three-day trip will cost 1,350 yuan, according to the official.

North Korea is one of the world's most secretive and isolated nations, but Pyongyang has stepped up efforts to attract foreign tourists, particularly those from China.

Earlier last month, North Korea started its first one-day cycling trip from the Chinese border city of Tumen. The tour is not available for non-Chinese travelers.
Recently the DPRK has also welcomed day tourists to Namyang and Hoeryong.
Previous posts on tourism here.
Read the full story here:
N. Korea, China to resume tours to Korean Peninsula's highest mountain
Yonhap
2014-6-4