For years the center of commercial life in Sinuiju has been the Chaeha-dong Market (채하시장). It has seen consistent growth since 2002: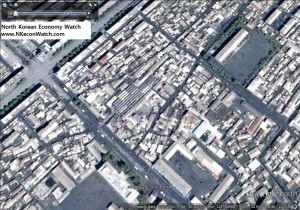 Google Earth image date: 2002-4-29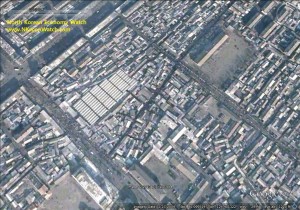 Google Earth image date: 2004-1-27 (note the street trading around the market)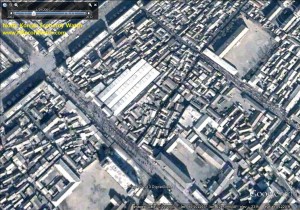 Google Earth image date: 2005-1-29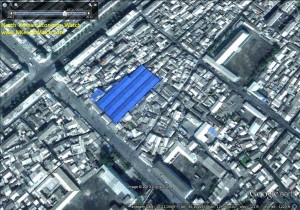 Google Earth image date: 2009-10-11
The market pretty much remained this size until 2011-4-19, the last day that satellite imagery records this structure.
On the next available image, dated 2012-10-30, we can see the market has been destroyed. It appears that the space is being transformed into a new park, much like we have seen being built in different parts of Pyongyang over the last year.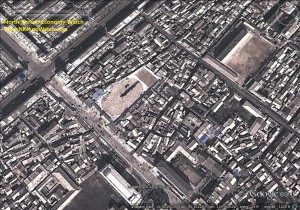 However, the story is not as sad as the story of the Phyongsong Market (formerly the country's largest). A new market has been built on the outskirts of the city to replace the Chaeha Market: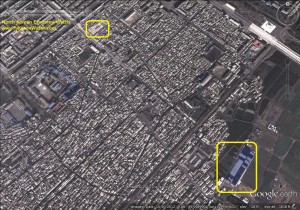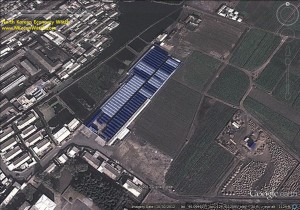 2012-10-30
This new market is over twice the size of the old Chaeha Market. Its dimensions are approximately 183m x 60m. We only have one satellite image of this market, and it is closed.  It is unclear how busy it is on market day (approximately every ten days) or how much of the area around the market and road leading to the market is filled with additional vendors.
The DPRK has a mixed relationship with these markets.  On the one hand they are a clear rebuke of the state's old socialist ideology and the official socialist retail distribution system.  To date no North Korean leader has ever publicly visited a market as part of an inspection or guidance tour.  The closest we have seen was when Choe Yong-rim visited the Pyongyang Underground Shop (under Kim Il-sung Square) on 2011-11-17.
On the other hand, however, many state-owned and August 3 factories and companies now sell directly through these markets rather than official shops and distribution channels (which allows them to stockpile cash rather than relying on account transfers with the central bank). Additionally these markets are integrated into the public finance system.  The state charges a fee for vending slots in these markets and party inspectors regularly patrol them to enforce (imperfectly) various dictates.
It would be interesting to know if this market was built before or after Kim Jong il died (2011-12-17). This would be a powerful signal of the intentions of Kim Jong-un's economic team. From the available public imagery, however, it is not possible to say at this point.