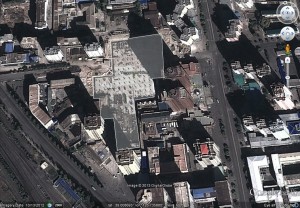 Pictured Above: New hotel under construction. See more here. I am still not sure about the gold mine.
By Michael Rank
A Chinese company has announced plans to invest $20 million in a gold mine in North Korea as well as in the country's first five-star hotel, a Chinese-language website reports (http://www.#removed-for-malware-warning-external-site#idprkorea.com/news/news/view.asp?id=2599).
The mine, with deposits of 50 tonnes of gold, is in Unsan county 운산군 in North Phyongan province 평안북도 in northwestern North Korea near the Chinese border.
The report said Weijin Investment Group is the first Chinese company from Hunan province to invest in North Korea.
It quoted Weijin chairman Xia Juhua as saying, "North Korea is backward in infrastructure construction, so we can fulfill the requirements of mineral resources exploitation by offering technology and management support to the country's key projects like highways and hotels".
He said Wejin plans to construct a 30-storey, five-star hotel to be completed this year but did not give a location. Xia also mentioned plans to invest in the rare earth sector in North Korea but gave no details.
The report said about 200 Chinese companies were investing in North Korea and that over 70% were focusing on the mining sector. But at least one of these ventures went spectacularly sour last year, when the Chinese partner launched an extraordinarily bitter attack on its North Korean counterpart, accusing the North Koreans of tearing up a multi-million-dollar deal, intimidating its staff, imposing outrageous extra charges and cutting off its power and water, as well as of corruption and demanding prostitutes whenever their North Korean colleagues visited China.
UPDATE (2013-3-13): NK News has published that the hotel will be named "Yonggwang Hotel (영광호텔)"…which is the name of the closest metro stop.