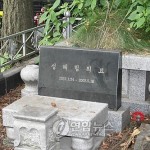 Pictured above: Yonhap photo of Song Hye-rim's tomb stone in Moscow
Michael Rank writes in the Asia Times:
She died a lonely death, and she lies in a lonely grave. Once close to the center of power in highly secretive North Korea, she died in a Moscow hospital, spurned by her former lover, the Dear Leader Kim Jong-il, after suffering from paranoia and depression.

Much remains mysterious about Song Hye-rim, but a journalist from South Korea's Yonhap news agency recently discovered her grave in Moscow's Troyekurovskoye cemetery, where she was buried under an assumed name after fleeing Pyongyang following the breakdown of her relationship with Kim Jong-il.

She was suffering from mental illness and fled for medical treatment to Moscow, where she was admitted to hospital as O Sun Hui, the name under which she was originally buried.

But her gravestone now bears her real name, as well as her dates of birth and death – January 24, 1937-May 18, 2002 – and, on the other side of the headstone are inscribed the words "mother of Kim Jong Nam".

It's not known if her son has ever visited his mother's grave, but Kim Jong-nam is certainly the black sheep of the family. The oldest son of Kim Jong-il was born in 1971 and was at one time his heir apparent, but he was disgraced when he was barred from Narita airport in 2001 when he was found to be travelling on a false passport on a trip to Tokyo Disneyland.

He now lives in Macau and southern China, and was recently quoted by a Japanese journalist as saying he expects the North Korean regime to fail because its new leader, his half-brother Kim Jong-eun, is too inexperienced. He said he had never even met his all-powerful half-brother, who is aged about 28.

The South Korean-born Song Hye-rim was an actress and a divorcee with a child when she became Kim Jong-il's first mistress around 1970. She is said to have entered Pyongyang Film Academy in 1955, but left the following year to give birth to a daughter. She later re-enrolled and graduated, making her film debut in 1960.

Somewhat spookily, she is buried just 10 meters away from Stalin's son Vasily Dzhugashvili, who died aged 40 in 1962.

When the Yonhap reporter visited Song's grave in 2009 it was decorated with a single carnation, left by – who knows. "As you can see the grave has few visitors," a cemetery official remarked.

Song was the first mistress of Kim Jong-il, who died last December, and was five years older than him. Her friend, Kim Young-soon, has said that Kim Jong-il did not tell his father, the Great Leader Kim Il-sung, that he was living with a formerly married woman as that would have caused a huge scandal.

Song's sister, Song Hye-rang, managed to defect in Geneva in 1996, bringing with her nothing but her medicines, a volume of Chekhov short stories and her diary. She has told how the Dear Leader, an ardent film buff, was at first besotted with his movie star mistress but his ardour later cooled, and his father ordered him to marry a woman he never really loved, although the marriage did not last long.

His next liaison was with Ko Yong-hui, a Japanese-born ethnic Korean and a dancer, who was the mother of North Korea's youthful new leader, Kim Jong-eun. She is believed to have died in Paris in 2004 and the Dear Leader replaced her with his personal secretary, Kim Ok, who reportedly accompanied him on a visit to China in 2006.

The ruling Kim family is enshrouded in mystery and rumor, and what little we know for reasonably sure is based largely on defectors' accounts such as Song Hye-rang's autobiography and an unpublished memoir by Kim Jong-il's stepdaughter, the niece of Song Hye-rim, who defected in 1992 after visiting her aunt in hospital in Moscow.

The stepdaughter, Ri (Li) Nam-ok, tells in her autobiography how the then crown prince Kim Jong-nam was sent to school in Switzerland, accompanied by his uncle, Jang Song-taek.

The young Kim was at first reluctant to go, but "Jang Song-taek cajoled him, 'Come on, come with me, we will see lots of strange and funny things. Let's go!' The thought of spending time with his uncle must have pleased him, and Jong-Nam consented."

So writes Ri in her memoir, according to the respected North Korea-watcher Selig S Harrison, who says that although she originally intended it to be published, she changed her mind and had publication blocked through legal action in the French courts.

Jang stayed with Kim Jong-nam in Switzerland for six months, returning to Pyongyang in August, 1981, says Harrison.

Jang has emerged as a crucial figure since the death of Kim Jong-il because he is reported to be the mentor of the new leader, Kim Jong-eun.

Jang's stay in Switzerland was fairly short and it occurred a long time ago, Harrison notes, but he believes that it fits in with other indications that he is reform-minded.

So does Ri Nam-ok's reference to a visit to China by Jang on behalf of Kim Jong-il in 1989. When the subject of a visit by Ri to China came up, "My father told us he had sent Uncle Jang there and he had reported back that it 'should be seen'," she is quoted as saying in her ghost-written memoir, The Golden Cage.

Harrison has further evidence for claiming that Jang is a reformer, citing comments by the late Hwang Chang-yop, former international secretary of the Korean Workers' Party, and the most senior North Korean official ever to defect.

Harrison met Hwang three times in Pyongyang, and twice more after he defected to South Korea in 1998.

"Jang Song-taek is the smartest one there [in Pyongyang], and he understands that change is urgent and imperative," Hwang told Harrison. "He has good relations with the army because three of his brothers are generals. He's the best hope for reform, but it won't be easy for him."

That is an understatement, but perhaps there is hope that North Korea will launch much-needed reforms to its sclerotic political and economic system under its mysterious new leader.
Read the full story here:
North Korean secrets lie six feet under
Asia Times
Michael Rank
2012-2-18