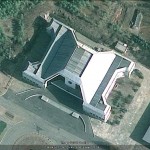 Pictured above (Google Earth): The location of the Trade Fair in the Three Revolutions Exhibition House, Pyongyang
According to the Pyongyang Times (October 2011):
The 7th Pyongyang Autumn International Trade Fair ran between October 17 and 20 in the Three-Revolution Exhibition House.

The annual event serves as an occasion in bolstering up economic relations and bilateral and multilateral cooperation among the countries on the principle of equality and mutual benefits.

The fair drew more than 260 companies from many countries and regions including the DPRK, China, the Netherlands, Germany, Bulgaria, Malaysia, Switzerland, Sweden, Italy, Austria, Australia, India, the UK, the Czech Republic, Poland and Taiwan.

On display in the trade fair were several thousand kinds of products such as electronic goods, machines, building materials, chemicals, medicines, food and consumer goods.

Over ten additional trading companies of the DPRK participated in the expo. The Korean firms exhibited more goods and ads in their booths.

The Kumgang Motor Joint Venture Company put a variety of vehicles on show, the Kwangmyong Contractual Joint Venture Company displayed stainless steel pipes and couplings and the Kyongnim Trading Company put on different kinds of far infrared rays-anionic treatment apparatuses, which drew the attention of viewers.

Draws also included paper samples of the Gratenau & Hesselbacher Gmbh & Co KG of Germany and textiles of the Anhui Xinhe Textile Co Ltd of China.

The deputy general manager of the Shenyang Huanggu Seeds Co Ltd of China who attended the exhibition for the first time said:

"The exhibition served as an occasion in promoting economic exchange and collaboration among the countries. We will boost economic exchange with the DPRK counterparts."

During the fair there were a briefing on the investment environment in the DPRK and business talks.
Read more about the trade fair at the Choson Exchange web page.
Here, here, and here are articles in KCNA on the trade fair.