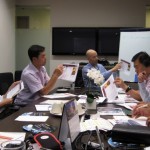 According to Choson Exchange:
In August this year, Choson Exchange, a non-profit focused on economic policy, business and legal knowledge exchange with North Korea (DPR Korea), implemented a study trip for DPRK policymakers to exchange policy ideas and experience in Singapore with policymakers. Thanks to the sponsorship of the Swiss Cooperation Office DPR of Korea, we were able to implement an insightful and engaging series of discussion with participating Koreans. We focused our program on younger Koreans, with 6 of the 7 North Koreans being under 40 years old, out of which 2 were under 30 years old. 3 institutions were represented in the visit, which involved 10 intensive days of meetings and discussions.

In particular, some of the young participants we selected for the program were able to ask astute questions on development issues and coordination among economic agencies. During the post-trip debriefing, participants highlighted specific aspects of Singapore's economic development experience which they found particularly interesting and relevant for their country. They also gave feedback on policy ideas which they believe could be adapted to their country. Choson Exchange followed up on the discussions with consultations in Pyongyang 5 days after the program ended.

We would like to thank speakers who volunteered their time and experience at this event in their personal capacities. Speakers included:

– The former Chairman of Singapore Airlines, Singapore Stock Exchange, Temasek Holdings, Development Bank of Singapore, Nepture Orient Lines and Permanent Secretary at various Ministries

– The former Minister for Finance and Minister in the Prime Minister's Office

– The Chief Economist for Bank of America Merrill Lynch in Southeast Asia

– The CEO of Centennial Asia Advisers and former Chief Economist for SocGen Asia-Pacific

– Directors and Economists at various Ministries in Singapore

– Private sector speakers or hosts from McKinsey & Co., Bain & Co., Goldman Sachs and Capital Group

We would also like to thank Member of Parliament Lily Neo for hosting dinners for the visiting delegation.