1. Kim Commercials: Kim Jong-il has now been parodied in two commercials (of which I am aware). Here is the most recent from Sprite: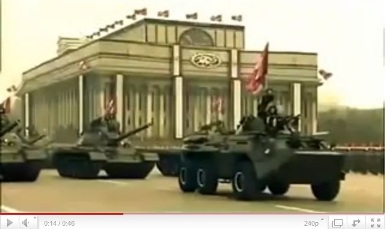 Click the image link to see the Chinese advert. It is on Youtube, so readers in China are out of luck…but you can see it on TV.
Here is a story about the video in the Korea Herald.
The advert spoofs a particularly interesting moment for Kim Jong-il: the only time his voice was broadcast on North Korean television. According to Wikipedia:
In 1992, Kim Jong-il's voice was broadcast within North Korea for the first time during a military parade for the KPA's 60th year anniversary in Pyongyang's then Central Square (Kim Il-sung Square at present), in which Kim Il-sung attended with Kim Jong-il by his side. After Kim Il-sung's speech, his son approached the microphone at the grandstand and simply said: "Glory to the heroic soldiers of the Korean People's Army!" Everyone in the audience clapped and the parade participants at the square grounds (which included veteran soldiers and officers of the KPA) shouted "ten thousand years" three times after that.
Kim Jong-il's voice has been broadcast in the western media more often than at home: here and here are just two examples.
And in case you have forgotten (or never seen it), there is an older (and funnier) parody commercial here. It still makes me laugh.
2. The DPRK's Anti-radiation Tonic: The DPRK has apparently gone on the lookout for signs of radiation blowing into the country. But they don't seem to be aware of their own "Anti-Radiation Tonic in Honey":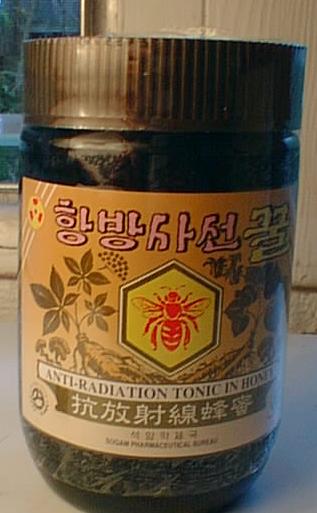 Hat tip to the Kim Jong-un Blog.
Of course there would not be any of these problems if the DPRK would just license that fusion technology they developed!
3. Before it was legos, now: toy cars.
4. Viceland Today: The Third Korea (Lots of great pics from Yanbian)