Three sets of pictures related to the DPRK:
Iron Facebook Curtain: The first image obtained via Aid Watch presents a December 2010 map of Facebook connections.  Notice anyone missing?  (Egypt is there!)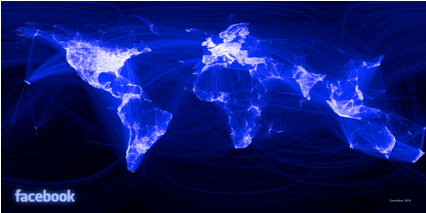 You can see a high resolution version of this image here.
DPRK at night and economic growth: The second image obtained from Aid Watch compares growth in electricity coverage at night between the two Koreas.  This is the first image I have seen like this which makes side-by-side comparisons: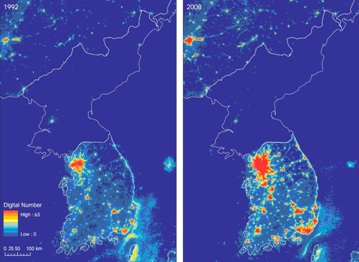 Click image for larger version
I overlaid these images to Google Earth to determine areas of relative growth and decline.  Surprisingly, Pyongyang and Chongjin showed dimmer and smaller electricity signals, indicating lighting was more prolific in 1992 than in 2008.  I would have expected their electricity signals to be just as, if not more, pronounced in 2008.
The areas of growth, where electricity signals are more (modestly) pronounced, include Kaesong (개성), Huichon (희천), Songgan (성간), Thaechon (태천), and Anju (안주).  Most of these are somewhat expected since they have received much publicized foreign (Kaesong) and domestic investment, particularly in power station development.
Also worth noting are the growth of lighting in South Korea and China.
Photoshop Fun: The third set of interesting images come from a Chinese reader who sends along these images from Korea magazine,  the monthly picture magazine published by the DPRK (See e-version here).  The images have been altered to give the impression of plenty.  Below see images of photoshopped goats, swimmers, and bread: