Item number one: the DPRK's domestically produced film camera, Hakmujong-1 (학무정-1):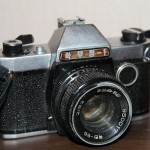 This picture comes via the Russian blog "Show and Tell Pyongyang". You can read about this camera in the original Russian here.  You can read about it in English (via Google Translate) here. This is the same blog that informed us about the DPRK's PDA device and the DPRK's Linux OS, Red Star.  He also has some fabulous pictures of the Kim Jong-suk Pyongyang Silk Mill here.
Item number two: DPRK's domestic "Coke":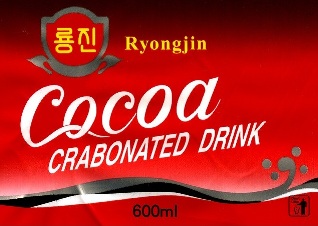 This photo comes from the collection of Eric Lafforgue.  If you have not already seen his photos, please do yourself a favor and click over.
The soda is "Crabonated" which is a pretty funny typo.  Also worth noting are the lengths they have gone through to copy the Coca-Cola brand–as if they are trying to win back market-share from the foreign firm.  The colors, red, black, silver and white are the same.  The familiar cursive English "C" at the beginning of the word is a close copy.  They even tried to replicate the Coke "wave" by adding a literal wave in a similar curve along the bottom of the advert.
Item number three: DPRK caviar (Okryu Restaurant)
"Thanks to our leader Kim Jong-il we have managed to breed sturgeons.  People from Pyongyang and other provinces can come here to taste caviar and turtle meat."
See the full video here. Here is a satellite image of the restaurant.
Item number four: Women's fashion
Uriminzokkiri has posted a clip on DPRK women's fashion to their Youtube account.  You can see it here.  I have blogged about women's fashion before here and here.
Item number five: New Koryolink advert (Koryolink is the DPRK's new 3-G mobile phone service founded by Orascom)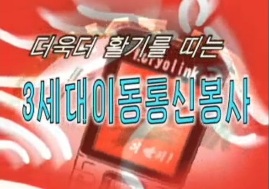 The video comes from this NK web page.  For South Koreans I posted it to my Youtube account.  You can see it here.
Item number six: DPRK verison of The Diary of Anne Frank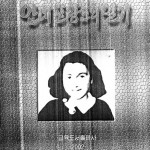 Michael Rank has scanned the introduction and uploaded it here.
Item number seven: Happy new year!