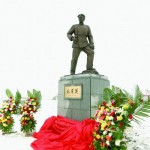 By Michael Rank
A statue of Chairman Mao's son Mao Anying 毛岸英, who was killed in the Korean war, has been unveiled in a town on the North Korean border where he served, a Chinese website reports.
The 2.7 metres high statue has been erected in Hekou 河口村 village in Changdian 长甸 county, in Liaoning province, which was on an important supply route and from where Mao Anying left for Korea. It is almost certainly the only monument in China to Mao Anying, who was killed in an American bombing raid on November 25, 1950, aged 28. He served in the war as a Russian-language interpreter.
A separate Chinese report shows the Mao Anying school in Changdian which was opened in 2003, replacing three previous schools. It describes in some detail how the area was affected during the Korean war, including how a nearby railway bridge was destroyed in the war and is known as the duan qiao or "broken bridge", just like the better known bridge in Dandong, about 60 km away.
It quotes Mao Zedong as saying, "People always die in wars, the Chinese Volunteers People's Army has already contributed many lives, their sacrifice is glorious. Anying was an ordinary soldier, so this should not be considered a big thing just because he was my son."
Mao Anying is buried in North Korea, in Hoechang county in South Phyongan province about 100 km east of Pyongyang. It is a leading pilgrimage site for Chinese visitors, and Premier Wen Jiabao paid tribute there in 2009.
Additional Information:
1. Here is a satellite image of the destroyed bridge in Changdian.
2. Here is the location of Mao Anying's official grave.
3. Here are the locations of three other Chinese People's Volunteer (CPV) Cemeteries in the DPRK: Pyongyang, Kaesong, Namyang.
4. More information in the comments.