The video was originally released by the Choson Ilbo, but the Telegraph (Britain) has posted a high-quality version of it: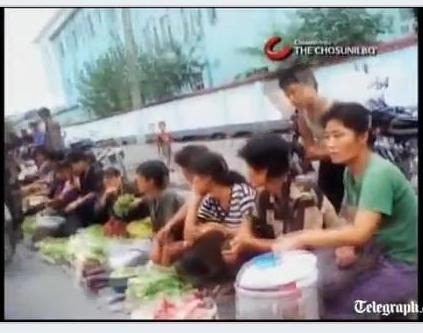 According to the Telegraph:
The video, obtained by Chosun Ilbo media agency, shows people [in Sinuiju] living in tents on streets with their water damaged belongings. Others can be seen buying water from a salesman.

The price of water has increased since the floods, according to the agency's source, with a bowl costing 6 pence. The usual monthly wages are around £1.30.

Heavy rains in July and August have hit food production that, even in a good year, falls a million tonnes short of the amount needed to feed North Korea's 23 million people.

According to the Chosun Ilbo, North Koreans in Shinuiju were complaining about the government and their inability to help the area properly.

Last week the South Korean government offered to provide £5.5m in emergency aid, including food, relief materials and first aid kits – but not rice nor construction equipment, as per Pyongyang's request.

North Korea's request was made through the Red Cross at the weekend, and is being reviewed, the Unification Ministry said in a statement.

South Korea has been reluctant to give rice to the North because it is worried it will not reach the people who need it most.
Pictures of the flooding can be found here.
Read the full story here:
Rare footage from inside North Korea reveals aftermath of floods
Telegraph
9/7/2010