According to NASA:
Multiple fires burned in North Korea in mid-October 2009, sending a plume of smoke over the Sea of Japan. The Moderate Resolution Imaging Spectroradiometer (MODIS) on NASA's Aqua satellite captured this true-color image on October 15. Red outlines indicate hotspots associated with active fires, although not all the fires have visible hotspots. The smoke plumes blow uniformly eastward, some of the individual plumes coalescing into a single large plume over the sea.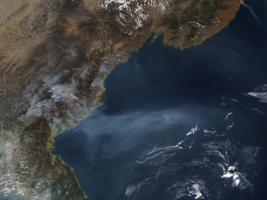 Click image for full size version.
I also made a Google Earth overlay of this image which you can download here.  Comparing this with the map I made of the North Korean electricity grid it is fairly obvious these fires were not started by falling power cables.  The power lines do not run through the areas on fire.