Pictured above: (L) Kim Il-Sung and Muammar Gaddafi attend a Mass Games performance in Kim Il-Sung Stadium, (R) Muammar Gaddafi gives an award to Kim Il-Sung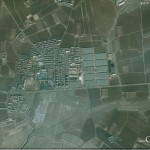 Pictured above (Google Earth): DPRK-Libya Friendship Farm at Jangchon-dong (장천동: 38.987331°, 125.842014°).  More background here.
UPDATE 6 (2011-10-26): Yonhap offers more details on the North Koreans who remain in Libya:
North Korea has banned its citizens in Libya from returning home in an apparent attempt to prevent the popular uprisings in the Arab world from reaching the isolated regime, a source said Wednesday.

…

About 200 North Koreans have been left in limbo in the war-torn country as Pyongyang ordered them not to return home, the source familiar with the issue said.

The North Korean doctors, nurses and construction workers were sent to the African nation to earn hard currency for their impoverished communist country.

North Korea has also taken similar steps for its officials in Libya, Egypt and other countries, said the source.
UPDATE 5 (2011-8-30): According to the Korea Times:
North Korea has not yet officially recognized the rebel National Transitional Council (NTC) in Libya as the North African nation's legitimate governing authority, said an official at the North Korean Embassy in Tripoli, Monday.

Asked whether Pyongyang has granted recognition to Libya's NTC, the official was quoted as saying by Yonhap News Agency, "Not yet … (we'll have to) wait and see." The official, who wished to remain unidentified, was speaking to reporters at the North Korean Embassy in Tripoli.

The official also confirmed reports that some 200 North Koreans are currently working in Libya as doctors, nurses and construction workers. With regard to their safety, the official said some have returned home, although others have not been able to leave due to difficulties in transit.

"We will deal with them depending on the circumstances," the official was quoted as saying.

The North Korean Embassy building has not been looted or damaged in the six-month-long conflict, the official added. In the past week, the South Korean Embassy building and ambassador's residence in Tripoli were attacked by armed robbers, although no one was hurt in either incident.

Pyongyang has yet to send a new ambassador to Tripoli, after the previous envoy returned to North Korea upon completing his term, the official said.

Between the two Koreas, Pyongyang was the first to establish diplomatic relations with Tripoli in 1974.

"We hope for peace and stability (in Libya)," the official said, adding that future relations between the nations will depend on the North African nation's stability.

Some 50 to 60 countries, including South Korea, have recognized the NTC since its formation by rebel forces against the regime of Moammar Gadhafi in February.
Read the full story here:
North Korea yet to recognize Libya's rebel NTC
Korea Times
Philip Iglauer
2011-8-30
UPDATE 4 (2011-5-16): According to the Daily NK, NATO denies hitting the embassy:
"It has been alleged that NATO attacked the embassy; this is simply not true," NATO said in a statement released on Friday, "While we are aware of media reports that there was damage to the North Korean embassy, we have no knowledge of possible collateral damage."

The statement came following one released Thursday by the Libyan Ministry of Foreign Affairs, stating North Korean claims that it had incurred damage as a result of a "barbaric, indiscriminate air raid" by NATO.

It described how a bomb exploded in the vicinity of the embassy during the night of May 9th, releasing shrapnel that penetrated the ceiling of the building and broke car windows.

While NATO conceded that it was targeting a bunker in central Tripoli that night, it said that "the embassy was located some 500 meters from the target we struck."

"Our strikes are precise and while the possibility of collateral damage will always exist, we go to great lengths to reduce such possibilities," it went on.

Earlier, Libya national television also reported that the North Korean embassy in Tripoli had been damaged during an air raid.
UPDATE 3 (2011-5-12): Libya and China's Xinhua are reporting that NATO damaged the DPRK embassy in Tripoli. KCNA has not said anything as of now.  According to Xinhua:
Libya's state television said on Thursday a NATO air strike damaged the DPRK embassy in the capital Tripoli without giving more details.
Earlier reports indicated that the staff of the embassy has been unable to return home during the uprising.
Here is video footage of the embassy.
UPDATE 2 (2011-5-8): North Korea exported nuclear materials to Libya (Korea Herald and VOA):
The nuclear materials found in Libya in 2004 were highly likely to have been produced by North Korea, U.S.-funded broadcaster Voice of America said Saturday, citing an interview with a former senior official of the U.N. nuclear watchdog.

In the interview, Olli Heinonen, the former deputy director general of the International Atomic Energy Agency, said uranium hexafluoride, or UF6 ― used in uranium enrichment in Libya ― was very likely to have been made by the communist state.

Heinonen made the allegations based on North Korea's purchase of parts to develop nuclear capabilities, information provided by Pakistan and other pieces of evidence.

To the question of whether there is any connection between the North and Syria with regard to nuclear technology developments, he said that that should be further investigated. He added that a nuclear reactor in Syria, which Israel destroyed, was very similar to North Korean reactors, indicating the possible connection between the two states.

The former deputy director general also said there was a good chance that North Korea has uranium enrichment facilities in areas other than the Yongbyon nuclear complex, stressing that IAEA inspectors should visit those facilities, provided they are allowed to do so.

Touching on the possibility of the North abandoning its nuclear programs, Heinonen said that the North could renounce them if the abandonment would lead to its economic development and security assurance.

The six-party talks aimed at denuclearizing the North have been suspended since 2008. China, the host of the multilateral talks, has been seeking to establish a mood for the dialogue while the South is apparently reluctant to see the resumption of the talks immediately as inter-Korean issues, including two deadly attacks last year, have yet to be addressed.
UPDATE 1 (2011-4-10): The DPRK has apparently ordered many of its citizens to remain in Libya and other Arab nations.  According to Yonhap:
North Korea has ordered its people in Libya not to return home, apparently out of fear that they will spread news of the anti-government uprisings in the African nation, a source said Sunday.

In a letter sent to the North Korean embassy in Libya, Pyongyang ordered its people to "follow the measures of the Libyan government" and not return home, said the source familiar with North Korea affairs.

The move sharply contrasts with other countries' efforts to evacuate their people from strife-torn Libya and demonstrates the Pyongyang regime's fear of possible revolts triggered by the African nation's pro-democracy protests of the past few months, according to the source.

More than 200 North Koreans are believed to be living in Libya to earn foreign cash while working as doctors, nurses and construction workers.

Between the two Koreas, Pyongyang was first to establish diplomatic relations with Tripoli in 1974, followed by a cooperation pact signed by Libyan leader Moammar Gadhafi during his visit to the North in 1982.

North Koreans in Middle Eastern nations such as Saudi Arabia, Kuwait and the United Arab Emirates also appear unlikely to be able to return home while anti-government protests continue in the region.

Sources say the North Korean government in recent months has tightened control over the flow of information by strictly monitoring the use of computers, mobile phones, USB memory sticks and other IT equipment.
ORIGINAL POST (2011-3-29): Andrei Lankov writes in the Korea Times about the effects NATO military intervention in Libya might have on the DPRK's medium-term international relations strategies. According to his article:
Kim Jong-il right now may feel very happy about his wisdom which he demonstrated by stubbornly rejecting denuclearization proposals. Colonel Gadhafi in 2003 did exactly what Kim said he would never do ― Gadhafi agreed to swap his nuclear weapons program for better relations with the West and economic rewards. As we see, it did not help the eccentric strongman. Once his subjects rose in rebellion, the West intervened and chose its military might to assist the rebels.

In private conversations, North Korean officials often say: "Had Sadam had nukes he would still be in his palace right now." From now on, they probably will add: "And had Gadhafi not surrendered his nukes, nobody would have intervened when he was exterminating the rebels."

But what is the likely overall impact of such thinking on the North Korean actions? If anything, it increases the already high probability of another nuclear test and/or missile launch. The preparations for such undertakings have been underway for some time. Now, North Korean leaders might believe that this is a good time to show off their steadily growing nuclear and missile capabilities. This is a way to send a message to the Obama administration, and the message will read like this: "Mr. President, we are dangerous and its better not to get involved with us even if we do something which is not to your or anybody's liking".

At the same time, it's now less likely that North Korea will attempt a major provocation aimed at South Korea. Until recently, one could be almost certain that in the near future (in April or May, perhaps), the North would repeat what they did with frigate Cheonan and Yeonpyeong Island. Now they will probably think twice before making another attack.

While the attacks on Cheonan and Yeonpyeong Island are usually described as "provocations" this is essentially a misnomer. "Provocation" describes an act whose goal is to elicit an irrational and/or excessive reaction from the target of the incident. It was clearly not the case with the Cheonan or Yeonpyeong attack. The North attacked under the assumption that the South would not react in a meaningful way and would be incapable of inflicting any serious damage on assets valuable to the North Korean leadership (the lives of rank-and-file soldiers do not belong to this category).

North Koreans are aware that currently the South Korean public and government are in an unusually bellicose mood. They therefore expect a massive retaliation to follow in the event of another attack. Until recently the North Korean leadership probably anticipated that the South Korean retaliation would be limited, since neither the South nor its major ally, the United States, would do anything which might lead to an escalation of an exchange of fire on the border to a full scale war.

Therefore from Pyongyang's point of view, another military operation made perfect sense. It would be a good way to demonstrate that North Korea is not going to be quiet when ignored. They wanted to show that for Seoul and Washington, it's essentially cheaper to pay some protection money to Pyongyang (in the shape of aid and concessions) than to deal with the ever-present possibility of a North Korean attack and related sense of tensions and instability.

However, the recent developments in Libya might have changed the equation ― for a while, at least. Libya shows that under certain circumstances the U.S. and its major allies may indeed choose to launch a large-scale military operation. The assumption that Seoul and Washington will avoid escalation seems still to be true, but Pyongyang may have started to have grave doubts about this.

So it is quite possible that the coming spring will be quieter than the present author (and many of his colleagues) have until recently expected. This does not mean that North Korea has turned into a pacifist state, but from the vantage point of Pyongyang it makes sense to postpone their operations against the South and wait for the dust to settle. And of course, by being quiet for a while they can save resources which will be needed to better prepare the next missile launch and next nuclear test.
Though Lankov refers to North Korean officials in "private conversations," the North Korean foreign ministry made essentially the same claim in a public statement on March 22 (KCNA):
The present Libyan crisis teaches the international community a serious lesson.

It was fully exposed before the world that "Libya's nuclear dismantlement" much touted by the U.S. in the past turned out to be a mode of aggression whereby the latter coaxed the former with such sweet words as "guarantee of security" and "improvement of relations" to disarm itself and then swallowed it up by force.

It proved once again the truth of history that peace can be preserved only when one builds up one's own strength as long as high-handed and arbitrary practices go on in the world.

The DPRK was quite just when it took the path of Songun and the military capacity for self-defence built up in this course serves as a very valuable deterrent for averting a war and defending peace and stability on the Korean Peninsula.
Since then, they have published 16 stories about Libya: Demonstration Staged in Russia against US Military Operation against Libya, US Involvement in Libya Protested, AU Chairperson Rejects Military Intervention in Libya, Indiscriminate Use of Arms against Libya Assailed, Algeria Opposes Military Intervention in Libya, Military Operation in Libya Condemned in Russia , Venezuelan President Censures West's Attack on Libya, Iranian Foreign Ministry Assails West's Military Operation against Libya, Ugandan President Blasts West for Double Standards,  India Regrets Air Strikes on Libya, AU Demands Stop to Attack on Libya , Russian PM Brands Military Operation against Libya as Invasion, Russia Assails Military Attack on Libya , China Concerned about Libyan Crisis, Russia Opposes Military Attack on Libya , Foreign Forces' Armed Intervention in Libya Assailed in Cuba.
In fact, there are hundreds of KCNA stories about Libya.  Check them out here (STALIN Search Engine).
The Daily NK, however, reminds us of one the the most important aspects of the DPRK-Libya relationship:
Libyan leader Colonel Muammar Qadhafi has been using weapons purchased from North Korea in his faltering attempt to suppress anti-government protests.

As revealed by South Korean television broadcaster SBS on the 28th, boxes containing rockets and clearly bearing the name North Korea were found in Ras Lanuf following the retreat of pro-Qadhafi forces under NATO air strikes.

The boxes were disguised as parts for bulldozers.

Elsewhere, "64 Machine gun" was found written in Korean on an anti-aircraft heavy machine gun. A similar model of machine gun has been seen many times in images released by the North Korean authorities.
Check out the article for pictures.
UPDATE: Writing at the Wall Street Journal Blog, Evan Ramstad gets a quote from Bruce Bechtol:
"It just goes to show how deeply involved in the arms market (in the Middle East and Africa) North Korea is," said Bruce Bechtol, a former intelligence officer with the Defense Intelligence Agency in the U.S. who is now a professor at San Angelo State University.

"Their WMD [weapons of mass destruction] proliferation gets lots of attention, but folks often forget that they also engage in a plethora of conventional arms sales," he said.

Would it be a stretch to assume that The DPRK and Libya have been trading oil for weapons?
Previous posts about the DPRK and Libya here.
This was picked up by RFA.