Wednesday, March 27th, 2013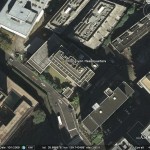 Pictured above (Google Earth): The Chongryon headquarters building in Tokyo ( 35.697001°, 139.743435°).
UPDATE 2 (2013-3-27): A Buddhist order on good terms with the Chongryun won the property auction and will allow the Chongryun to remain on the premises.  According to the Japan Times:
The Kagoshima temple offered ¥4.5 billion, the highest among four bidders, to acquire the land and the Chongryon building.

"We will keep the building as it is and make it a base of harmony among ethnic groups in Asia, including North Korea," said Saifuku Temple leader Ekan Ikeguchi.

"The function of our headquarters will be maintained for the time being, at least," a Chongryon official said. "We feel relieved."

The government-backed Resolution and Collection Corp. put the premises out to tender to recoup loans of about ¥62.7 billion it made to Chongryon.
UPDATE 1 (2013-3-13): The Wall Street Journal's Japan Real Time reports that the auction has finally begun on the Chongryun's headquarters building in central Tokyo. According to the article:
Bidding has begun for the repossessed central headquarters of the General Association of Korean Residents in Japan, North Korea's de-facto embassy in the country. It's an attempt by the Japanese government to get back some of the ¥62.7 billion owed by the pro-Pyongyang group, also known as Chongryon, and comes as the reclusive regime faces a new round of sanctions and international condemnation following its third nuclear test.

Built in 1986, the 10-story office building has two basement floors and is situated on a 2,390 square-meter piece of land in a prime location in central Tokyo. The Tokyo District Court said in its assessment of the building that some portions of it showed signs of age-related deterioration as well as damage incurred during the massive 2011 earthquake that shook northeastern Japan.

Analysts say that as the auctioneer's hammer falls, so falls the fortunes of the once-influential group.

"Losing its central headquarters is symbolic of Chongryon's decline," said Hajime Izumi, Professor of International Relations at Shizuoka University. "While the organization will survive, I expect it to face increasing difficulty maintaining itself," he said.

Founded in 1955 as an organization representing the pro-North Korean members of Japan's ethnic Korean minority, Chongryon has been responsible for pumping out North Korean propaganda and has been operating banks, a newspaper and numerous schools for Korean residents in Japan.

The group has also been a reliable source of hard cash for Pyongyang, with members sending back a large portion of revenue accumulated through numerous "pachinko" gambling parlors and real-estate businesses operated across the nation.

But Yoshifu Arita, an upper house lawmaker in Japan's parliament, said the organization faced severe head-winds in 2002 when the late Kim Jong Il admitted during a meeting with then-Prime Minister Junichiro Koizumi that North Korean agents had kidnapped Japanese nationals in the 1970s and 1980s.

"This led to a massive public backlash toward North Korea as well the organization," he said. "It led to many disillusioned members leaving Chongryon as pressure on them mounted."

Chongryong's debt stems from a network of credit unions for pro-North Korean residents of Japan that collapsed and had to be bailed out by the government-backed Resolution and Collection Corporation in the late 1990s and early 2000s. The debt has been transferred to Chongryon, which has been sued by the RCC for repayment.

A 72-year-old South Korean businessman living in Kobe, who used to be affiliated with Chongryon, added that the younger generation of Koreans in Japan also felt less of a link and patriotism toward Pyongyang. And with Japan's long economic malaise following the burst of its debt bubble in the early 1990s, "pro-Pyongyang supporters don't have the cash or the will to lend a hand to the organization, even when its headquarters are about to be sold off," added the businessman, who asked not to be identified.

Bids for the building, which began Tuesday, will be accepted through March 19. The winner of the auction, which Chongryon cannot participate in, is expected to be decided on March 29.
ORIGINAL POST (2012-7-26): The Atlantic has a great piece on recent developments with the General Association of Koreans in Japan (Chongryong or Chosen Soren):
In late June, a Japanese court ordered Chongryon, a business, education, and banking organization formally representing pro-North Korean members of Japan's ethnic Korean minority, to auction off its ten-story office building in downtown Tokyo, effectively ending its mission of bringing money into North Korea and pushing propaganda out. The group's problems are essentially financial: Chongryon owes the Japanese government nearly $750 million for a late-90s emergency bailout that rescued the group's network of credit unions, which were rapidly de-capitalized because of remittances to North Korea during the country's devastating mid-90s famine, an economic and humanitarian catastrophe that killed up to 2 million people.

As with just about anything regarding North Korea, even the surface-level truth belies deeper and darker realities. If it weren't for the chronic economic crisis and resulting famine that gripped North Korea in the 1990s, as well as a rising anti-North Korean strain in Japanese politics, then the criminal enterprises, communal bonds, and official connections that made Chongryon such a formidable political and cultural organization may well have remained intact. It took economic collapse, regional crisis, and domestic political upheaval to bring Chongryon to its knees.

North Korea has no official embassy in Japan, so the Pyongyang-linked Chongryon acts as an unofficial representative of a government that has kidnapped Japanese citizens and fired long-range missiles in the island nation's direction. It runs banks, a newspaper, dozens of schools, and a university named after Kim Il Sung, North Korea's "eternal leader" and the current despot's grandfather. In the 1980s, Chongryon's business and criminal enterprises, which included off-book pachinko parlors, pubs, prostitution rings, and real estate, reportedly produced over a billion dollars a year in revenue — much of which, according to Michael J. Green of the Center for Strategic and International Studies, was sent back to Pyongyang. As late as 1990, its banking system was capitalized to the tune of $25 billion.

Because North Korea has few exports and is under severe international sanctions, unofficial currency-gathering enterprises like this one can be crucial. And the group also serves as a propaganda outlet, pushing out the DPRK party line to ethnic Koreans. It would be unimaginable for North Korea to own a K-Street high-rise, and South Korea officially bans any expression of support for its northern neighbor. But Japan has allowed its enemy's outpost to remain, and even thrive.
The full story is well worth reading here.
Here are previous posts on the Chongryon including a post from 2010 when the Japanese Supreme Court ruled that the headquarters could be seized.