Quanhe Customs House will be the border facility for managing Chinese traffic into Rason (and further down the coast). Within the administration building on the site is a poster advertising the plans to expand the customs house to manage more traffic.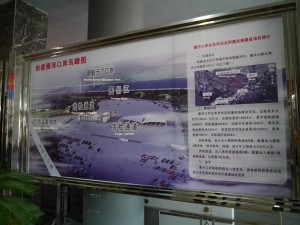 The billboard offers a conceptual image of the new facility, a map of the new location, and some informative copy (in Chinese).
Here is a Google Earth image of the proposed construction site in relation to the existing border compound: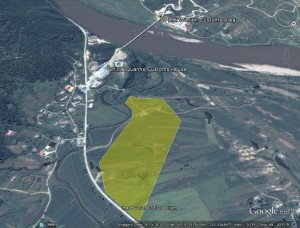 Here is a translation of the Chinese on the sign text:
Introduction of Construction Project of Quanhe (Guanghe) Port

1. The Proposed Location
The proposed site is located in Quanhe Village, Jingxin-Zhen of Hunchun City, north side of Quanhe Road. The project covers an area of 180,000 square meters (map below).

2. Construction Project
The total investment of Quanhe Port Project is 299,331,500 RMB, and the total construction area is 16992m2. including Passenger Security Channel (5445m2), Cargo Inspection Channel (2000m2), House For Frontier Inspection (1680m2), Cargo Storehouse (2000m2), Inspection And Quarantine Site (2400m2), Dormitory Restaurant (2567m2), Garage And Boiler Room (900 m2).

Passenger Security Channel: Including each 6 channels for entry and exit, and another 4 vehicle channels for touring bus. Designed annual passenger capacity is 2 million.

Cargo Inspection Channel: Including each 4 channels for entry and exit of cargo and another 1 channel for passenger. The designed annual cargo capacity is 1.65 million tons.

3. Remaining
The existing inspection building will be used as channels for border trade and tourism after the new facilities getting into operation.
Thanks to Berhhard Seliger for the info!