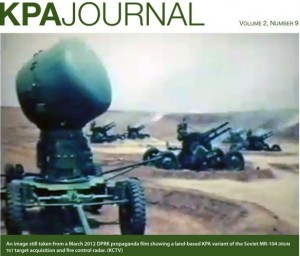 Joseph Bermudez, Senior Analyst with Digital Globe's Analysis Center and author of The Armed Forces of North Korea, has posted the latest issue of KPA Journal.
You can download the PDF here.
Topics include:
"KPA Land-based MR-104 DRUM TILT Radar," by Joseph S. Bermudez Jr.
A December 2010 DPRK propaganda video of a Korean People's Army (North Korean Army) combined arms exercise contained a scene depicting a land-based variant of the former Soviet MR-104 drum tilt naval target acquisition and fire control radar. This is the first readily available open source image of the land-based variant.
"KPA 17th Tank Brigade (Tank Division, Mechanized Brigade, Mechanized Division), Part II," by Joseph S. Bermudez Jr.
While much is now known concerning U.S. and U.N. units, organizations and operations during the Fatherland Liberation War (i.e., Korean War) very little reliable and detailed information is available concerning those of the Korean People's Army (North Korean Army). Ths is especially true for its armored forces, which played a brief but important role during the first year of the conflict. This paper represents an initial e ffort to recount the organization and operations of one of the KPA's first armored units—the 17th Tank Brigade.
"KPA Wartime Propaganda Leaflet"
Michael Webster, who contributed 4 images of the Han-gang bridges from his collection to the March 2011 (Vol. 2, No. 3) issue of KPA Journal, has provided a KPA propaganda leaflet from his Korean War collection.
"Unusual Visitor to Wonsan Airbase," by Joseph S. Bermudez Jr.
On November 1, 2012 DigitalGlobe acquired an image of the Wŏnsan-si area, including the Korean People's Air Force (North Korean Air Force) Wŏnsan Airbase. Aside from capturing the normal collection of MiG-17/-19s and MiG-21s stationed at the airbase the image also captured an An-24 coke taxiing for takeoff at the northern end of the main runway.