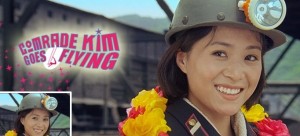 Comrade Kim Goes Flying…a film by British entrepreneur and Koryo Tours founder  Nick Bonner (who also did The Game of their Lives, A State of Mind, and Crossing the Line) and a North Korean film production team.
See the film's official web page here (includes screening dates and cast/crew).
See the film's Facebook Page here.
See a film clip on YouTube here.
See CCTV coverage here (in English).
See Nick Bonner talking about the film at the Toronto International Film Festival here.
More on the Pyongyang Film Festival here,  here and here.
Also…
Love North Korea Children Charity Event in Shanghai
On September 25th, the UK-based charity Love North Korea Children will hold an event in Shanghai. Hannah Barraclough from Koryo Tours will also attend this event and will be able to answer any questions you may have.
Location: The Public
Address: Sinan Mansions Block 2 4/F, 507 Fuxing Zhong Lu, near ChongQing Lu
Date: 25th September
Starting time: 7PM (19:00)
Entrance: 150 CNY
For more information, please contact: [email protected]
*Love the North Korean Children's official web page is here. I have previously blogged about their bakery in Rason here. LNKC recently build a bakery in Sariwon.