Back in May of 2010 I wrote this blog post about Rajin's port. It appears to be out-of-date now.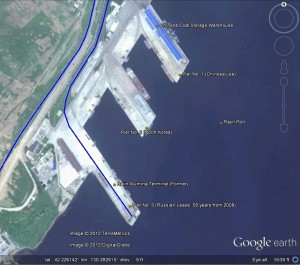 Pictured Above (Google Earth): Rajin Port
Dr. Bernhard Seliger of the Hanns Seidel Foundation writes in with an update on the Rajin Port:
The 80 year old port has three piers, of which the No. 3 pier is used by the Russians. They have a long-term lease (50 years starting in 2008) and while they are currently doing some work there, it is not being used for exports.

China is interested in using Pier No.1 (where it rents a warehouse to store coal) and Pier No. 2 (currently in use by the Koreans). Plans have also been expressed (now cancelled) to build 2 new piers (No. 4 and 5) (See here and here). For many years the Chinese and North Korean governments have negotiated a pier rental agreement, but for now there is no concrete result–though at numerous times it has been maintained that China already rented the port. What exactly the problems are is not known. For now China uses the port to bring coal from the northernmost Heilongang Province to southern China via a sea route, an event which took place twice this year.

Theoretically, the port as a handling capacity of 3 million sq. tons, however the maximum real handling was 800.000 tons in 1979, while last year it was 200.000 tons. The depth of the harbor is 9 m.
Here is what a report in Xinhua stated (2012-8-28):
Moreover, China has played a key role in infrastructure and transportation projects, which have been increasing in the zone.
China would build No. 4 to 6 piers at Rajin Port in Rason, DPRK's major ice-free harbor adjacent to China and Russia, and was using No. 1 and 2 piers, while Russia had leased No. 3 pier, said an official in charge of foreign affairs of the port.
See also this report by Andray Abrahamian of Choson Exchange.