This week Kim Jong-un made a guidance trip to the Ungok Area (운곡지구) Combined Stock Farm: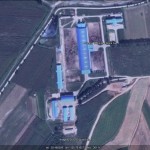 Pictured Above (Google Earth:  39.460931°, 125.762052°)
The visit itself did not strike me as very interesting (the animal farm has been around since at least 2002), but the mention of the "Ungok Area" did.
I have many North Korean maps which I have already transferred to Google Earth: A 1997 North Korean atlas (thanks Michael), a 1978 North Korean atlas (thanks Steve),  North Korean atlas software (thanks PSCORE), and a North Korean atlas published by the Chongryon in Japan (thanks Steve).  None of these sources mention the "Ungok Area".
The only source I have that does mention the Ungok Area is from South Korea and was published in 2005. I used that source to map out the Ungok Area on Google Earth: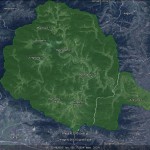 The Ungok Area (above in Green) composes nearly all of southern Anju and a small western portion of Sunchon City (Sinhung-ri). It is bordered on the west by Mundok County, on the south west by Sukchon County, on the south east by Sunchon County, and on the North by Kaechon and Anju Cities.
I am, however, unsure as to whether the Ungok Area has its own administrative apparatus or whether it is under the administration of Anju (and Sunchon?). Ungok does seem to be of particular interest to some group of North Korean policy makers.  Judging from satellite imagery it appears to receive a disproportionate quantity of resources aimed at rezoning farm land, reconstructing meat and vegetable farms, as well as building new homes. Looking at the area one is reminded of idealized versions of North Korean village life depicted in official publications. Even the other parts of Anju do not look as "neat and tidy" as the Ungok Area.
If any readers have access to better information than me (my Korean is not very good), I would appreciate knowing more. On a side note, these questions could also apply to Mundok County's "Chongnam Area" which appears to have been granted many different administrative designations over the years.
On a final note, I plan on publishing all of this geographic data soon. I just need to sort out some politics and programming issues.