I was able to locate all of Kim Jong-un's guidance trip locations on Google Earth for the months of March and April. One of Kim Jong-un's final April 2012 guidance trips was to the 26th Exhibition of Military Science and Technology of the KPA (조선인민군 군사과학기술전람회). This is not to be confused with the previously mentioned KPA Exhibition of Arms and Equipment (조선인민군 무장장비관). And though this was the 26th exhibit, the venue was clearly being used for the first time.  It is likely, however, that the previous exhibits took place in the site's former buildings.
The new military exhibit hall is located in Mirim, and here is a picture on Google Earth ( 39.020407°, 125.847304°: hat tip to a good friend for assistance):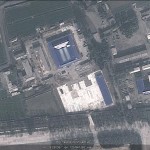 Click image for larger version
Construction of this facility began in December 2009 with the demolition of the previous buildings. Most of this exhibition hall's shell (concrete) was completed by October 2010. The roof of the main exhibition hall was completed by May 27, 2011. The exteriors of the annex buildings were completed by October 2011. According to the Google Earth ruler, the main exhibition hall is approximately 55m x 50m, and by my estimation there are 3-4 floors. Entrance to the facility is via the former Mirim airfield.
Outside the exhibit hall, several different kinds of KPA vehicles and projectiles are parked for inspection. Inside, the center of the large exhibition hall appears to be largely empty with smaller rooms around the circumference of the building utilized for education/research opportunities in specific aspects of the KPA's equipment.
You can see video of Kim Jong-un's visit here.
Here is KCNA coverage of Kim Jong-un's visit.
There is more at NK Leadership Watch