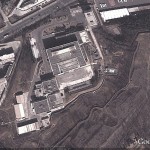 Pictured above: Korea Computer Center, Pyongyang (Google Earth)
According to Mainichi Daily News:
Prosecutors indicted two executives of small trading houses in Nagoya and Tokyo on Wednesday on charges of exporting used personal computers to North Korea in violation of Japanese government trade sanctions.

Lee Mun Ryang, 61, in Nagoya, and Kaoru Morino, 44, in Tokyo, allegedly exported used PCs and other items worth a total of 8.2 million yen to North Korea in June and December 2010, according to the Osaka District Public Prosecutors Office.

The exported goods are believed to have been delivered to the Korea Computer Center, North Korea's governmental information technology research center set up by late North Korean leader Kim Jong Il.

Both Lee and Morino were quoted by prosecutors as saying they knew that the goods would be delivered to the KCC.

Japan has imposed a total ban on exports to North Korea since June 2009 in protest at its nuclear program.

Lee and Morino began exporting daily necessities to North Korea in 2006, according to investigative sources.
Additional Information:
1. Martyn Williams also wrote about this.
2. In 2010 The Japanese also arrested an individual for exporting pianos to the DPRK.
3. The North Koreans just released several Japanese they were holding.
Read the full story here:
2 executives indicted over PC exports to N. Korea
Mainichi Daily News
2012-2-2