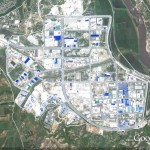 According to the Daily NK:
According to records released today by the Ministry of Unification, there were a total of 48,242 workers in the Kaesong Industrial Complex at the end of September, up from 6013 when the project was launched in 2005.

Following the recent resumption of construction at the complex, the number of workers is now expected to grow further.

Revealing the data, an official with the Ministry of Unification commented, "Labor has been provided sufficient for Kaesong Complex enterprises to overcome labor shortages. If conditions get better allowing workers from further away to get employed, it looks like numbers will increase even more."

The more than 48,000 North Korean workers in the Kaesong Complex bring in $50 million annually for the North Korean government.

As word of the good working environment that the Kaesong Industrial Complex offers spreads, the area is reportedly attracting internal migrants.

"The good reputation of Kaesong among workers has spread to Shinuiji, so they are moving to the area. But accommodation problems have to be solved before any can be hired," the official explained.

The educational backgrounds of the workers include 81.8% with a high school diploma, 9.5% college graduates and 8.7% from professional schools.

Their base pay plus bonuses and incentives add up to roughly $100 dollars per person, though much of this is lost in payments to the North Korean state.
Here and here are recent post on road construction in Kaesong.
Here are previous posts on the Kaesong Industrial Zone.
Read the full story here:
Kaesong Still Growing
Daily NK
Kim Yong Hun
2011-12-02