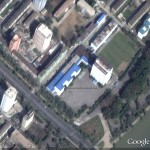 Pictured above (Google Earth): Pyongyang Middle School No. 1
According to the Nov 2011 issue of Korea Magazine (via Naenara):
The International Math Olympiad that ran in the Netherlands in July drew more than 560 students from over 100 countries and regions.

The annual Olympiad attracts worldwide attention as it is a good occasion for judging the level of education and the prospect of scientific development of each country.

All of the six students from the DPRK were highly appraised. Mun So Min, Mun Hak Myong and Hong Chung Song from Pyongyang Secondary School No.1 have won gold medals and Ri Yong Hyon and Ryu Song Chol from Pyongyang Secondary School No.1 and Kim Hyo Song from East Pyongyang Secondary School No.1 silver medals.

After a prize-giving ceremony was over, their tutor Ri Kwang Il said with pride to journalists that their successes were the fruition of the excellent educational system of the DPRK.

In the DPRK favourable conditions are provided for educating even one or two children in a remote mountainous village and isolated islet. School bus, train and ship can be seen.

Specialists, famous professors and doctors strive to find out talented children in time and train them.

Under the good educational system, the six students from the DPRK have studied to their heart's content. Thus they gave full play to their abilities in the international contest.

They are now working harder out of desire to live up to the expectations of their motherland.
A minor translation note…recently the official North Korean media began translating "중학교" as "Secondary School" rather than "Middle School".  Thus, Pyongyang Secondary School No. 1 is more commonly known in English as the Pyongyang Middle School No. 1.   You can see it in Google Maps here.
Back to the main point: According to the International Math Olympiad's web page, the DPRK came in a respectable seventh place in the 2011 tournament.  Unmentioned in the Naeanra article is that the DPRK is the only team to have ever been disqualified in the tournament's history, and it has been twice: in 2010 and 1991.
I wrote a previous post about the tournament here.