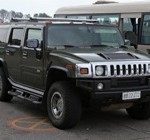 Pictured above: An American-made, petrol-guzzling Hummer H2 (MSRP 2008-$53,286; 10 mpg-US;24 L/100 km; 12 mpg-imp) in the parking lot of (I believe) the Yanggakdo Hotel in Pyongyang in September 2010.  The photo comes from here.
UPDATE 2 (2011-10-5): Accoridng to the Mainichi Daily News:
A man standing trial for illegally exporting luxury foreign cars to North Korea was a spy attempting to acquire foreign currency under the guise of a businessman, police allege.

An Sonki, 71, a North Korean resident of Japan, is being tried at the Tokyo District Court on charges of violating the Foreign Exchange Law for exporting three foreign luxury cars to North Korea in 2008.

An traveled to North Korea and China on 40 occasions over the past five years. He is believed to have worked as a broker between North Korea's state-run companies and foreign firms, while ostensibly working for an electricity-affiliated company in Tokyo almost every day. He managed his own trading company, whose nominal president was a South Korean resident of Japan whom he was acquainted with.

The Metropolitan Police Department (MPD)'s Public Security Bureau had kept track of An since the 1990s because An invited North Korean trade missions to Japan and visited the North Korean passenger-cargo ship Mangyongbong while it was docked at a port in Japan.

The MPD launched a criminal investigation into the illegal export case in June and found that An belonged to a spy agency under the Korean Workers' Party. An reportedly received instructions from the secretive agency by calling it about once a week from a public telephone.

The MPD also confiscated dozens of contracts and planning documents from locations linked to An. The documents pertained to joint crab and shrimp fishing with Russian companies; the processing and selling of kimchi with Vietnamese companies; scrapping and repairing of ships with Japanese and Chinese companies; cable copper trading with Zambian companies; and importing matsutake mushrooms and snow crabs to Japan.

An's activities were apparently aimed at brokering joint ventures between North Korean state-run companies and foreign companies, as well as bringing supplies to North Korea. Investigators suspect that An was helping with North Korea's acquisition of foreign currency and the improvement of power supply in the North.

An was reportedly living a frugal life, renting a six-tatami mat apartment room without a bathroom for 40,000 yen a month. The apartment was not equipped with an air conditioner or television. There was hardly any living ware in the apartment, except for a rice cooker and a compact refrigerator. His lunch box he brought to his company contained only rice and pickled vegetables. He always wore a suit, which was left by a deceased acquaintance. He rarely contacted his separated wife and child.

"I never thought of my own interests but acted in accordance with the agency's instructions," An was quoted as telling investigators.

An has not revealed much about the flow of his money. Investigators confiscated 1 million yen in cash and wads of receipts from traveling abroad, but the origin of those funds is unknown.

"His activities are shrouded in mystery. We suspect that the importance of secret agents like him has been increasing in North Korea, which is under economic sanctions," said a senior MPD official.

During the first hearing of the trial on Sept. 9, An demanded that all charges in the indictments be withheld. How much of his secret activities will be revealed depends on the questioning of the defendant during the ongoing trial.
UPDATE 1 (2011-7-7): According to the Mainichi Daily News:
A North Korean man under arrest for illegally exporting luxury foreign cars to Pyongyang by way of South Korea allegedly disguised the cars as destined for foreign embassies, it has been learned.

An Sonki, 71, a North Korean resident of Tokyo's Bunkyo Ward, was earlier arrested by the Metropolitan Police Department (MPD) on charges of violating the Foreign Exchange Law for exporting luxury foreign cars to North Korea from Kobe in 2008 under the instruction of the Workers' Party of Korea's undercover agency.

According to the latest revelations, the North's undercover agency instructed An to make the Indian Embassy in Pyongyang one of the final destinations of the exported cars apparently to prevent South Korean authorities from uncovering irregularities when the cars went through the South. The MPD is trying to work out all the facts of the case.

An is suspected to have exported three fancy foreign cars to Pyongyang on two separate occasions in 2008, ferrying the cars from Kobe Port. The export was undertaken by a Tokyo-based trading company called "Godo Holdings," which is effectively managed by An. The MPD suspects that An is a North Korean agent.

According to the MPD's Public Security Bureau, An had declared to Japanese customs that the consignee of the luxury cars was a delivery company in Seoul. However, the vehicles were ultimately shipped to North Korea by way of the South, where the items were re-registered as transit cargo. It is believed that the cars were declared as destined for the embassies when they cleared South Korean customs.

Investigators have confiscated from An's home documents that described a plan to make the Indian Embassy and a Middle Eastern embassy in Pyongyang the final destinations of the cars.

"I was told to make the embassies the nominal destinations of the cars," An was quoted as telling investigators.

Investigators have also confiscated a North Korean passport, a seal with the name of the undercover agency engraved, as well as a document describing a plan to establish routes to distribute the North's agricultural and marine products to Japan, the United States and Europe. It has also emerged that An had traveled to South Africa in order to procure rare metals, according to investigators.

An reportedly belonged to a section of the North's undercover agency that was in charge of Japan.
More on the interesting business dealings of the North Korean embassy in India below.
ORIGINAL POST (2011-6-21): According to KBS:
Japanese police have arrested a North Korean citizen on charges of selling luxury foreign cars to the North through South Korea.

Japanese media said that the North Korean man, who resides in Tokyo and was identified only by his surname "Ahn," is charged with violating Japan's foreign currency law.

Ahn is accused of illegally exporting three used Mercedes-Benz cars to North Korea without the Japanese government's permission. The cars were shipped to the communist country from Japan's Kobe port via South Korea's Busan and Incheon between September and December 2008.

This is the first uncovered illegal export scheme to use South Korea as a stopover between Japan and North Korea. China is generally the popular channel for illegal exports between the two nations.

Japanese police also believe that Ahn is a North Korean spy.
Back in May, the DPRK detained two Japanese men for drug smuggling in Rason, and North Korean Embassy officials in India came under investigation for involvement in a luxury car smuggling case worth W100 billion (US$1=W1,091).
Read the full story here:
Japan Arrests N. Korean on Charges of Illegal Export
KBS
2011-6-21