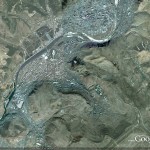 Pictured above (Google Earth): Hyesan City, capital of Ryanggang Province
According to the Daily NK:
A campaign to beautify the streets of Yangkang Province [Ryanggang, 량강도] has begun to anger local residents, according to sources.

The beautification campaign has been implemented nationwide in preparation for next year's planned festivities. In Yangkang Province this has translated into residents being compelled to lower fences, erect gables along roof lines and lime wash walls.

A source from the province reported on Tuesday, "An instruction came down from the Urban Management Department of the municipal committee of the Party telling us to 'destroy all fences over two meters in height'. Now people are saying that only the thieves are happy."

North Korean fences have traditionally been made with brush wood or bamboo, and more recently with planks of wood. In the early 1990s, the height of most fences was around one meter, but as the economic situation got worse, the fences got concomitantly higher. Now, there are three meter high fences in some places, according to defectors.

The source explained the residents' fears, saying, "We built fences that high using our own money because there are so many thieves. But, the authorities have ordered us to destroy the high fences, so people are really annoyed."

He went on, "Some people have even built their storage areas with the high fences forming part of the walls. So, at a time when they should be in the jangmadang, they have been destroying their storage along with the walls. Therefore, people are calling it a life and death situation."

A second instruction has been to place gables on roofs in order to make them more aesthetically pleasing.

Another source explained, "There was an instruction to build gables a month ago, so people dug clay soil from the mountains and built the gables. But, during the rainy season, the roofs started leaking."

He added, "People ask what they are meant to do to put gables on tumbledown old houses.'"

According to the source, the beautification campaign began when a person who used to be the chief manager in charge of Yangkang Province Guidance Department of the Central Committee of the Party was appointed as Chief Secretary of the Provincial Committee of the Party (in 2009). People supposedly complain that he is tormenting people to garner a promotion.

In a similarly arbitrary process in 2000, Kim Jong Il caught sight of an apartment veranda with glass across it during a visit to Shinuiju, and summarily declared that all verandas should be so equipped. As a result, people had to add glass to their own verandas.

The competition to get as much glass on as many apartments as possible was fierce, according to sources, but then suddenly Kim, during a later onsite inspection in Hyesan, declared that all the glass was making apartments look like prisons, so it was all duly taken down again.

People thus assume that the energetic implementation of the current campaign is rooted in the desire of local officials to impress Kim Jong Il, a fact which is not improving their view of the situation.
Read the full story here:
Party Calls for Lower Fences and Splendid Gables
Daily NK
Lee Seok Young
2011-7-26