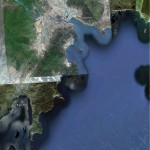 Pictured above (Google Earth): Rason's three ports: Rajin, Sonbong, Ungsang
Institute for Far Eastern Studies (IFES)
2011-6-21

North Korea and China hosted a groundbreaking ceremony on June 8 for the launch of the joint development project in Hwanggumpyong Island near the DPRK-China border. On the next day, the launching ceremony for the Rason Economic and Trade Zone took place.

The KCNA reported on April 27 that the modernization projects for the Rajin, Sonbong, and Ungsang Ports are to take place. According to the report, "These three ports in Rason City have the geographical advantage for maritime transportation. . . . Rajin Port, surrounded by Daecho and Socho Islands, is an ideal harbor that provides security and excellent marine conditions for docking ships."

Currently at the Rajin Port, a number of equipment, fishery products, and processed foods are handled. An official from the Rason City People's Committee stated, "There are plans of advancing Rajin, Sonbong, and Ungsang Ports even further to double the capacity and cargo."

Recently, news on the Rason Economic and Trade Zone by the KCNA can be heard more frequently as North Korea is making an effort to advertise the development of this area. Recent reports covered news on the preferential tariff system, development program, and light industry zone.

The preferential tariff system of the Rason Economic and Trade Zone was adopted as means to lure more foreign investment into the area and improve the North Korea's image as being more cooperative and supportive toward foreign businesses. Preferential treatment is being granted to foreign investors in order to turn the area into a major entrepot, export producer, and financial and tourist hub of Northeast Asia. One North Korean official stated, "Rason Economic and Trade Zone has favorable conditions to grow as a major trade zone. There are plans of constructing state-of-the-art equipment, facilities, and light industry factories to develop the area as a major export base."

China and Russia are said to be paying special attention to the Rason Port development. China is already known to have invested in Pier 1 at Rajin Port and Russia in Pier 3.

North Korea has taken various legal measures to develop the area since Kim Jong Il's field guidance visit to Rason City in December 2009. Rason City was designated as a "special city" in January 4, 2010 and the Rason Economic and Trade Zone Law was passed on January 27, 2010.
Additional Information:
1. A Swiss firm is alleged to have rented Rajin's Pier No. 2, but it has not.
2. Here and here is some background information on the new Hwanggumphyon SEZ.  Here is some more information on the Rason ground-breaking and Chinese investment tour.