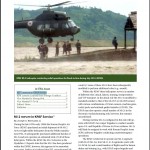 Joseph Bermudez, military analyst for Jane's Intelligence Review and author of  The Armed Forces of North Korea, has published the ninth issue of his very fascinating KPA Journal.
Click here to download the full issue (PDF).
Topics include: Mi-2 Hoplite helicopter, KPA Lessons Learned, Vice Marchal Jo Myong-rok, and Vice Marshal Yi Tu-ik (Biographies by Mike Madden)  
You can find all of the previous issues of KPA Journal here.