World War II: Konan / Hungnam POW camp.
This camp was located in present-day Hungnam (South Hamgyong Province).  Run by the Japanese, it housed approximately 350 British and Australian prisoners who were captured during the fall of Singapore. According to one web page, an American B-29 crew was interned there for 16 days.  The camp opened on September 14, 1943. The soldiers were repatriated (released) in mid-September 1945, approximately a month after Japan surrendered.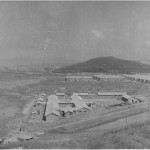 The above photo of the camp and other great shots can be found on this flickr page. Below is a picture of the camp location as it exists today (39°51'10.83″N, 127°35'29.08″E).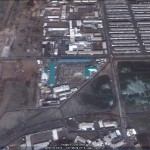 Just to the west of the camp was the Motomiya Chemical Plant where POWs worked to produce carbide.  This factory was destroyed in the Korean War and is now the Hungnam Thermal Power Plant and/or the 2.8 Vinalon Complex: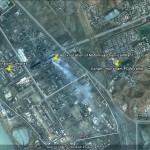 Korean War:
Pyoktong Camp 5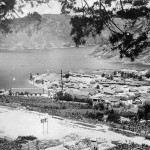 There is not much information on this camp  on the internet, but according to this site:
This lovely close-up is of a POW camp at Pyok Tong North Korea. The not so lovely part is that over 2000 UN prisoners are buried behind the camp.

Many UK prisoners from the Imjim battles ended up in that camp. Most of the Glosters were marched for 6 weeks to that place, then the officers and NCOs were separated from the men in case they influenced them.
A separate web page does not describe it so well:
According to a former POW, Dr. Sid Essensten, American POWs were dying at the rate more than a dozen per day in January and February of 1951 due to exposure, malnutrition, and dysentery. At that time, the camp was run by the North Koreans. Conditions improved slightly when the Chinese forces assumed control of the camp and milder weather arrived in April of 1951. Conditions improved significantly in July of 1951 once peace talks began with the UN.

Several authors have written about Camp Five, which was one of the most notorious POW camps in North Korea. Albert Biderman's March to Calumny and Raymond Lech's Broken Soldiers are two of the best documented accounts of Camp Five. Clay Blair's The Forgotten War discusses the 24th Infantry Division in detail, to include the Battle at Anju.
Here are some alleged pictures taken in the camp.
According to the Korean War Project, the Kangdong Camp 8 is located at 39° 7'10.38″N, 126° 6'5.26″E and Pak's Place was located at 39° 7'10.01″N, 125°53'46.43″E.  I cannot find much information on either of these camps—but I am not a historian.
If you are aware of the locations of other POW camps in North Korea from either WWII or the Korean War, please let me know.