UPDATE 1 (2012-9-5): More current information can be found here.
ORIGINAL POST (2010-5-23):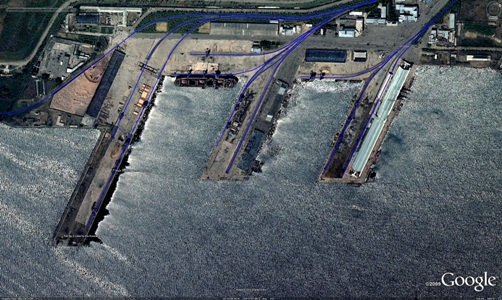 The City of Rajin (Rason) has three ports (pictured above–click for large version).  According to a 1998 UNDP report,   Pier No. 1 (on the right) was known as the "Russian-Japanese Bulk Fertilizer Terminal. It has now been leased by the Chinese. Port No. 3 (left) was formerly known as the Rajin Alumina Terminal.  This is now leased by the Russians (see here). A fellow North Korea-watcher tells me that Pier No. 2 is reserved for the North Koreans.
KBS recently ran a video on recent changes in Rason. I have uploaded the segment to YouTube (Apologies to readers in China).  You can see the video here.
On a side note, if anyone in China has the time and savvy to rip videos from my YouTube account and re-post them on Youku please go for it.