(h/t to H. Williams) Preliminary numbers from the UN-funded and administered DPRK census have been published.  According to the UN, the DPRK's population as of October 2008 breaks down as follows: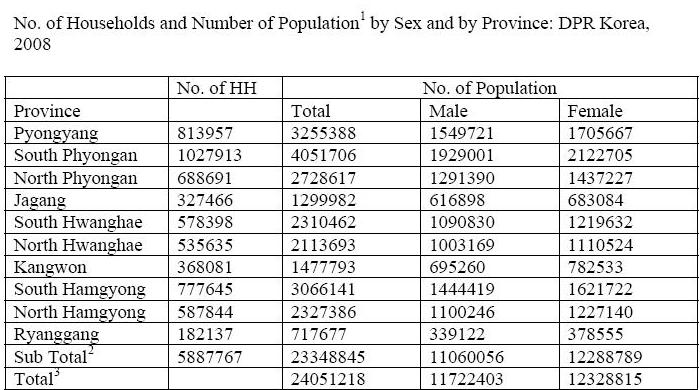 Click on image for larger version, or better yet, see the results in the original PDF here.
Here is some more information from the Choson Ilbo:
The United Nations Population Fund announced a few days ago that a two-week census study conducted on North Korea in October of last year showed the country's population as being 24.05 million people. That finding went against the forecasts of experts that North Korea's population would have dropped from 21.21 million in 1993 to less than 18 million, due to a prolonged economic slump. Until 1993, North Korea had suppressed childbirth. But starting in 1996, when more and more people began starving to death, North Korea has been promoting childbirth by prohibiting abortions and offering special support payments to families that have many children.

North Korea also suffered from a concentration of its population, with 40 percent of its total population living in the Pyongan provinces. More than 4 million people live in South Pyongan Province, 3.26 million in the capital Pyongyang, and 2.73 million in North Pyongan Province. Unlike South Korea, there were 600,000 more women than men. But North Korea is said to have requested the UNFPA to keep the data under wraps. That was because of the breadth of the information contained the latest study, from details on individuals to data on incomes, the items owned by households, and even the availability of bathrooms, heating, tap water and sewage processing facilities.

The reason why North Korea had no choice but to agree to the information being unveiled was because South Korean capital and know-how was used to conduct the survey. According to a request by the UNFPA, South Korea footed $4 million of the $7 million spent to conduct the census, while the South's National Statistical Office offered the method and technique used to conduct the census. As a result, the UNFPA mobilized 35,200 North Korean census takers and conducted house-to-house surveys on 5.89 million homes.

The UNFPA considered it "interesting" that North Korea had unveiled the results of the census to the world. Sultan Aziz, head of the UNFPA's Asia-Pacific division, appeared on Voice of America and said North Korea unveiled itself to the world because it knew that it must first take a close look at itself in order to develop its own economy. That is why there are forecasts that North Korea will soon turn to the international community for help. The results of a detailed census, including the infant mortality rate and average life expectancy, due out in the first half of this year, will deliver more of a shock to North Korea than anyone else.